Affordable, convenient one day advanced course modules that build on what you learned in the Personal Protection CCW course or in other basic/intermediate handgun courses! This one day, ten hour course starts at an intermediate level and moves on to advanced level concepts.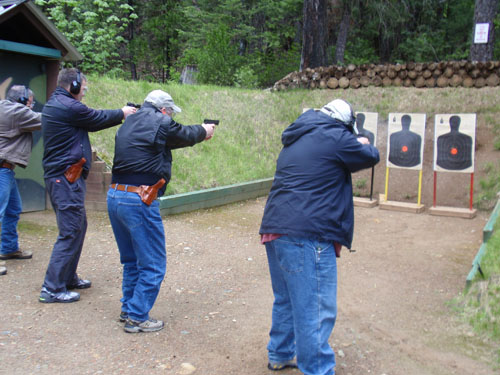 The tactical range practice sessions help you develop close contact shooting techniques, weapon retention positions, efficient use of cover or concealment, shooting at multiple targets, clearing malfunctions, moving and shooting, building searching skills (including in the shoot house!), low light level shooting, and more.
Close contact shooting involves using point shooting when time and distance do not allow for aimed fire using the sights. An example of this is when you're seated in a car and you're attacked by someone seated in the car with you. With practice, anyone can be effectively accurate while point shooting at such arms-length distances.
We believe clearing malfunctions should be simple techniques, the simpler, the better. If you have to memorize several different ways to clear malfunctions, your response in a high-stress situation becomes less efficient. The most likely malfunctions should be practiced until the actions are automatic and completed without conscious thought. Part of the class time is devoted to practicing these skills.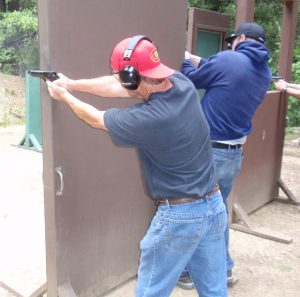 Exploding off the "X" and moving to cover are important survival skills when confronted with an attacker wielding a deadly weapon. Movement provides life while remaining stationary provides regret, injury, and possibly death. This is why stationary range drills involving long rows of students has limited value in preparing you for a gunfight.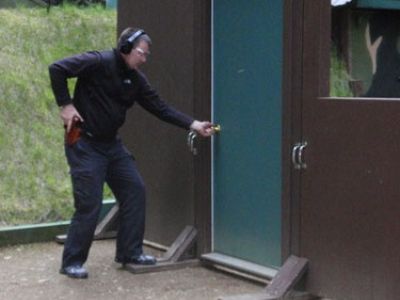 Successful building clearing techniques demand that you learn efficient searching and recognize when the circumstances call for either covert or dynamic searches. Covert searches utilize stealth and dynamic searches utilize quick, explosive entries. Each type of search can be useful and effective when the circumstances call for that search. Clearing buildings should be initiated by multiple searchers who have trained together, whenever this is possible. But sometimes, this is not possible, and waiting to search can result in unnecessary danger to other innocent people caught up in the situation. The risk is higher when one person searches, but training and practicing effective searching can minimize this risk.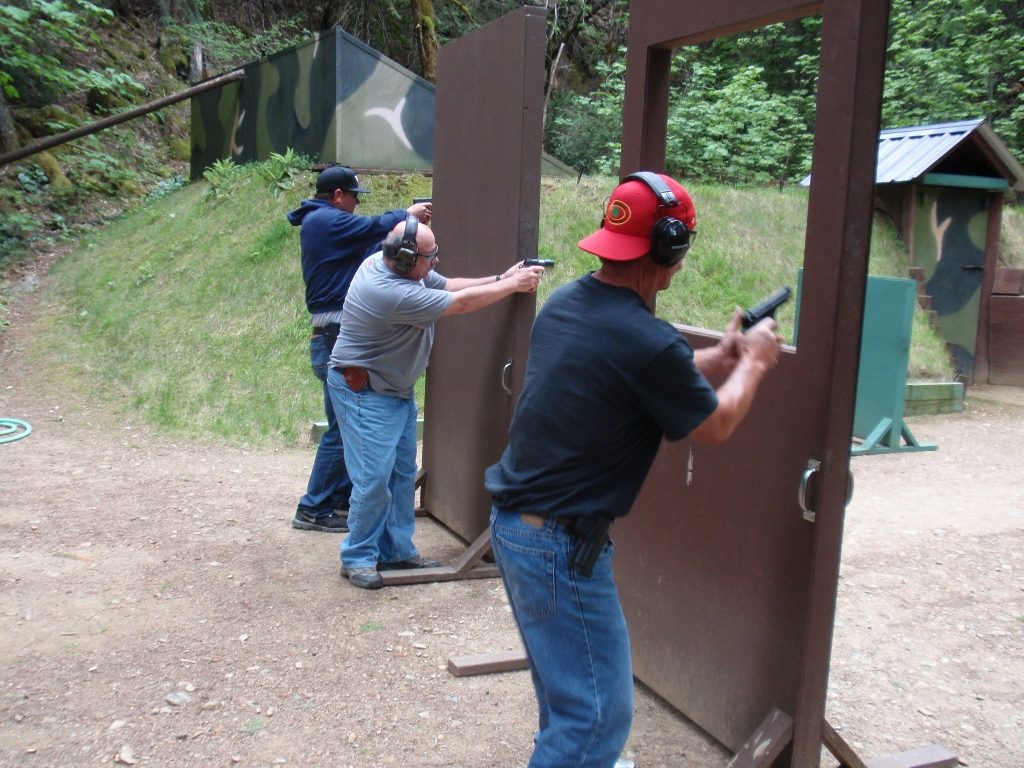 There will be minimal classroom time and maximum range time. The course is designed to fine tune your handgun handling and improve your accuracy and speed. You will be instructed in a relaxed, friendly atmosphere without compromising safety. A maximum of four students will be registered for each scheduled class, providing you with more personal attention, resulting in more progress and more retention of the concepts taught.
Successful completion of Basic Handgun Safety, CCW Initial Permit, CCW Permit Renewal, or a demonstrated equivalent level of shooting experience and knowledge is a prerequisite to register for this course. The course fee is $180.00 per student with discounts for three or more students who register at the same time. State law allows you to buy the ammunition from BullsEye without a background check as is required in gun stores.
Contact Us to Schedule an Intermediate Handgun Class