This four hour course is the most convenient and economical way for you to renew your CCW license. The classroom instruction and the range qualification are completed together on the same day at the same location. Currently 100% of BullsEye students qualify with their handguns!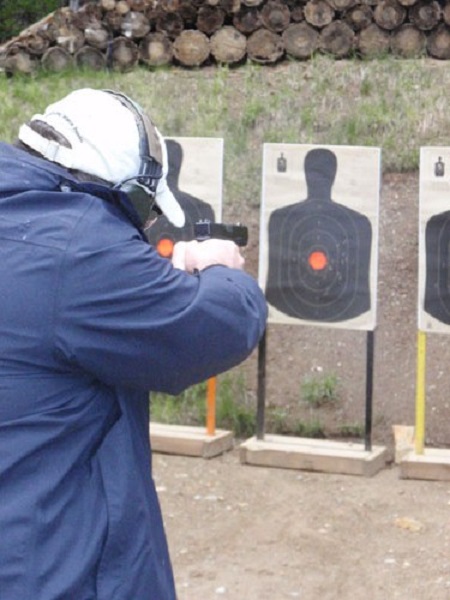 This course meets the requirements of Shasta County, Redding, Anderson, Shasta Lake City, Cottonwood, Burney, Siskiyou County, Mt. Shasta, Yreka, Weed, Modoc County, Trinity County, Tehama County, Red Bluff, and many other California counties and cities.
A new 2019 California state law requires all initial and renewal CCW applicants to qualify with each handgun listed on their CCW license. The Shasta, Siskiyou, Modoc, Trinity and Tehama county requirements are:
5 rounds from a holster, 4 times, drawing from the holster for each 5 round group, 20 rounds total
All rounds fired from 7 yards, no time limit
All rounds fired from your supported strong hand
80% passing score, which is 16 out of 20 shots in the 9 ring of a B-27 PRO-G target
Shasta County allows 5 handguns, Modoc County allows 4 handguns, and Siskiyou County allows 3 handguns on your CCW permit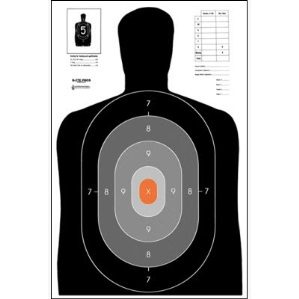 This is what the target looks like. The actual target is 24 inches wide and 35 inches long. The 9 ring is the middle gray ring, two rings larger than the orange bullseye. 16 out of 20 shots have to be inside the 9 ring line. A bullet hole that breaks the outer 9 ring line counts.
The BullsEye classroom and range are at the same location, so your entire renewal is conveniently completed in four hours. No running around and no taking two days off from work to attend classroom instruction one day and range activities another day. No bringing a folding chair to sit at the range outside in the cold, rain or valley heat during classroom time, as is required in other local CCW courses. (That gets old real fast.)
The course fee is only $65.00 per student, with big discounts for two or more students who register at the same time. You can schedule private classes, no extra charge, for two or more students. Two handgun range qualification attempts are included with your course fee. Additional handgun qualification attempts are $5.00 each. State law allows you to buy the ammunition from BullsEye without a background check as is required in gun stores.
View Our Schedule to Register for the Next Available CCW Permit Renewal Class